As a brand, Dodge has a lineage of power and prestige. Cars such as the Charger and Challenger were once a favorite of racers and hot rod aficionados alike. Just like crossing the finish line first, Dodge possesses a steadfast determination to stay ahead of the competition. For those who need a vehicle that offers both practicality and power, look no further than the 2021 Ram 2500. No matter what job you might have in front of you, Dodge is here to be in your corner and make sure you get it done.?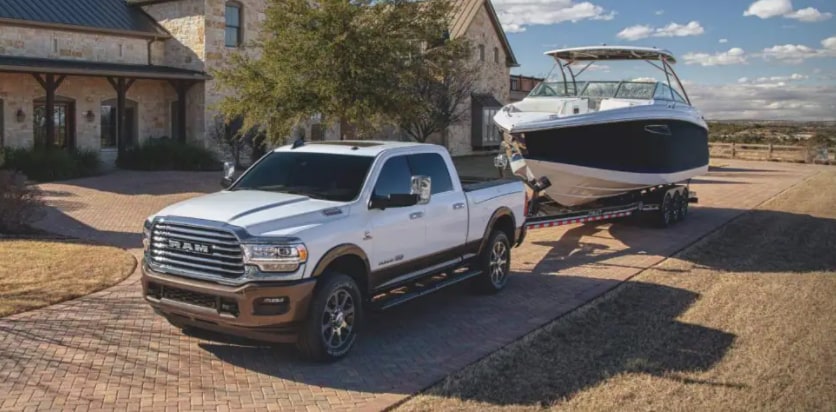 As any blue collared working man will tell you— "You need the right tool for the right job." The RAM 2500 possesses raw power when it comes to its versatility and towing capabilities. Choosing the right motor will greatly impact the efficiency of your vehicle. For those who have an arduous task (or several) in front of them, The RAM 2500 has a powerhouse of an engine—a 6.4-liter V8 which boasts 410 horsepower. If your workload is slightly smaller or you're looking for sustainability, the 6.7 Liter Turbo Diesel engine still carries an output of 370 horsepower and can run efficiently up to 350,000 miles when properly maintained. Depending on what model you choose, you can rest assured that you can haul 20,000 lbs. of cargo to wherever you need to.
The destination of any trip, be it for business or pleasure, is always important. That being said, it's nowhere as important as arriving there safely. A state-of-the-art trailer tire pressure monitoring system is available for the RMA 2500. With the ability to keep track of 4 trailers and 12 tires, this is the ideal tool for long-distance travel, especially when paired with the trailer reverse guidance view. Powered by 5 cameras, this might be one of the best safety features on the road today. Dodge places emphasis on making sure everything arrives in one piece at the finish line and nothing is left to chance.
Now that you're ready to deliver the goods, the necessary model of your RAM can be found at Route 1 USA. The premier location for Dodge, Jeep, Ram, and Chrysler, Route 1 offers an incredible inventory of new and used vehicles and even SCA performance lifted trucks. Located off of Route 1 at 2700 Brunswick Pike in Lawrenceville, NJ—they're here to assist you in making your RAM dreams manifest into reality. Stop on in or visit their website at www.rout1usa.com for the very best in quality and service. And no matter what you decide to do, drive safely.